WHAT TO SEE IN VERONA
Itineraries for discovering Verona and its surroundings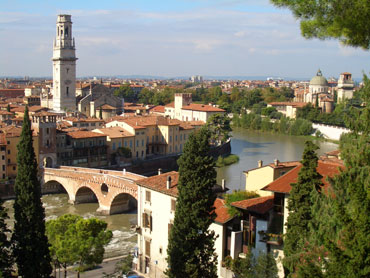 Here you can find some itineraries for discovering the beauty of our territory.
What to see in Verona? Other than the historic center, we suggest that you make the most of your relaxing stay at our Agriturismo Viticcio dei Ronchi by visiting the extraordinary natural landscapes shown on this page. We are happy to give further information on how to reach these fascinating places from our farmhouse. We wish you a happy stay!
Lessinia, north of Verona

At our back are the Lessinia Mountains, which protect Viticcio. Here lies Lessinia Natural Regional Park, a place where you can explore the trails on foot or by bike. I highly recommend these enchanting places, mostly still unknown to tourists: forests, pastures, waterfalls, small hamlets and mountain huts, where one can taste cheese, milk, butter or ice cream direct from the farmer. And we mustn't forget the osterias and trattorias, where one can enjoy traditional cuisine in a welcoming, family environment. Here you can also escape a few hours from the summer heat in the coolness of enchanting forests.
Valpolicella northwest of Verona

Between the Lessinia Mountains and the countryside of Verona lies Valpolicella, a zone renowned for the production of the fine Amarone e Valpolicella wines.
Common are the rural courtyards and small stone hamlets which have been inhabited for centuries. Many Veronese and Venetian nobles chose these hills for their elegant residences, almost all of remarkable artistic value, surrounded by vast parks and gardens. Valpolicella is also part of the Lessinia Natural Regional Park.
Going further, one can discover an even more primitive and uncontaminated side of this zone. Here is the meeting place of extraordinary natural phenomenon such as the majestic Ponte di Veja in Sant'Anna d'Alfaedo or the Molina Waterfall Park in Fumane. Important archeological sites such as the Grotta di Fumane reveal settlements from the Paleolithic Period, while the Paleontological and Prehistoric Museum of Sant'Anna d'Alfaedo holds numerous fossils of marine life discovered in the layers of the typical stone of Lessinia.
Garda Lake and the surrounding areas southwest of Verona

The magnificent Garda Lake, world renown, is visited mostly by northern Europeans. I would prefer not to dwell on the lake here, but instead to give some information on the small villages found in this area. Borghetto, very characteristic with its watermills, is a small nucleus of settlements which sprang up in the 1400s.
After visiting Borghetto, a stop in Valeggio sul Mincio is mandatory; here you can try the famous tortellini of Valeggio, served in a variety of sauces. Here in Valeggio let yourself be guided by the perfumes of the flowers and plants offered by Sigurtà Park, an enchanting paradise and green oasis of 600,000 m2.
The east of Verona: A mix of mountains and plains

Let's move on a little…head back in the direction our Agriturismo Viticcio dei Ronchi and towards the east of Verona, an endless wonder of land, tradition and history. You can admire villages with awe-inspiring castles surrounded by lush fields, villas and palaces of noble families (some of these antique dwellings are still inhabited) and large gardens and flourishing parks. The east of Verona is also famous for its production of the prized Soave wine.
The historic center of Verona

The city of Verona, situated between two bends in the Adige River, is famous throughout the world for its beauty and extraordinary artistic patrimony. Much of its celebrity comes from the love story of "Romeo and Juliet" by Shakespeare. Thanks to its particular strategic position Verona also benefits from a vigorous economy, which makes it the most important agricultural, financial and industrial market in the Veneto region.
Here you can find a guide to the principal attractions of Verona which we suggest visiting.
Other cities of art

After you have rested and enjoyed a plentiful breakfast at Viticcio dei Ronchi Relais, it would be my pleasure to give you suggestions on nearby cities of art, easily within reach. The most famous, without a doubt, is Venice, but don't forget Vicenza, only 50 km away; you can be enchanted by the innumerable Venetian Villas surrounding the city and which will accompany you all the way to nearby Padova, rich in art, villages and castles. And Treviso….I think that everyone knows Prosecco della Valdobbiadene, outstanding sparkling wine famous in all the world.