FARMHOUSE BREAKFAST ROOM
What we offer in the breakfast room of the Agriturismo Viticcio dei Ronchi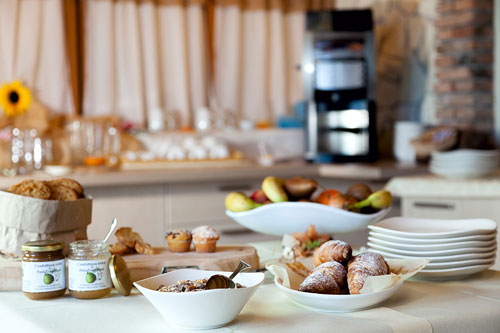 The interior of the breakfast room
Start your day in a setting steeped in history, where the stone of Lessinia, known as "Pietra di Prun" (stone of Prun) from the name of the principal locality of extraction in our Lessinia Mountains, welcomes you for a breakfast that will make you rediscover the flavors of the territory.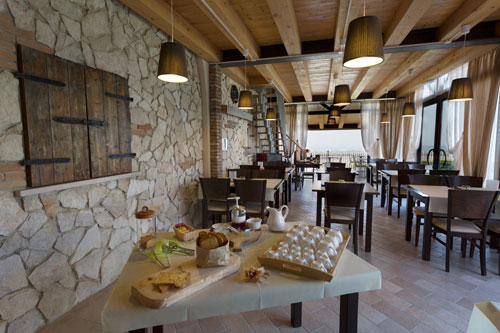 Pietra di Prun on the walls with brick columns from the mid 1800's salvaged from the old cellar of Andrea's grandparents.
On the stone facade of the breakfast room we couldn't forget the old "scuri", shutters which blocked the penetration of the light and the cold.
Furthermore, it is the wood pellet stove that heats the spring and autumn breakfasts using wood, pellet and clean and renewable energy.
Entering into the breakfast room you will be welcomed by the perfume of a sweet awakening.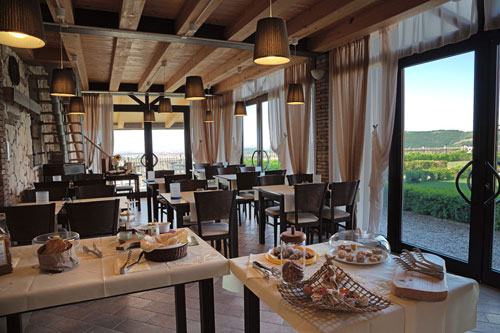 Large windows for enjoying the panoramic view. These can be opened
during warmer seasons to allow a breeze to enter.
Typical local products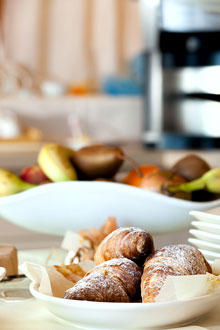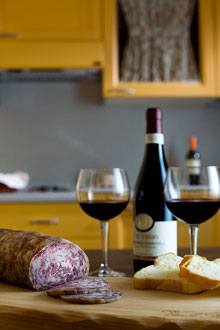 In this suggestive and welcoming atmosphere we offer, above all, typical, local products. Breakfast can, therefore, vary according to season, offering the best that nature and our "producer friends" have to offer. This way, you will have the good fortune of trying the following products:
Trentossi Pear Jam, an antique variety of pear which was cultivated in the zone east of Verona and in Valpolicella, produced by a farm 4 km from us, which differentiates itself from other businesses by being a Biodiversity Friend.

Special Melba Toast prepared exclusively with flour from Verona and its province: the bread is baked, cut into slices and then passed again through the oven for toasting.

Slices of white bread, as well as multigrain upon request, using always flour from Verona and its province.

Millefiori Honey of Marcellise a small locality 4 km from us, our bee keeper friend gives us that sweetness that only his bees can offer.

We try to make sure that there is always fruit, delicious apple pies and berry tarts, and if you like salty things for breakfast, we offer the typical cheese of our Lessinia "Monte Veronese," as well as cooked ham of only the highest quality.

At breakfast there is always yogurt, butter, biscuits, bread, croissants and the typical jams, granola and cornflakes, and fruit juices.

Tea, a hot cappuccino and espresso will be available
The exterior of the breakfast room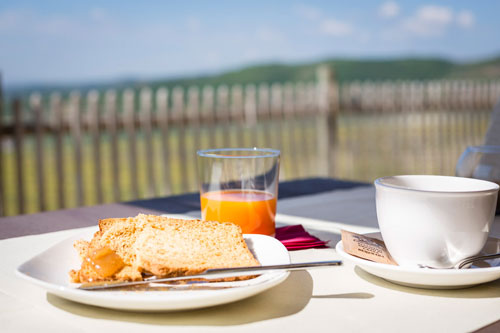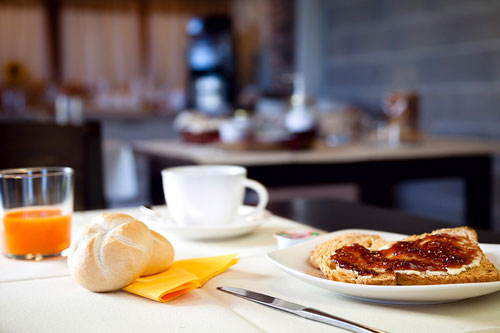 The exterior of the breakfast room

Weather permitting you can also enjoy your breakfast in the external veranda, where you will be delighted by a captivating panoramic view of our vineyard, rows of olive trees, and the Padan Plain….
In certain climatic and meteorological conditions, you can see the Apennines, in all their splendor, on the horizon about 300 km away. Sitting at small tables, you can maintain the intimacy of the surrounding environment, with the chirping of the birds and the rustling of the olive trees.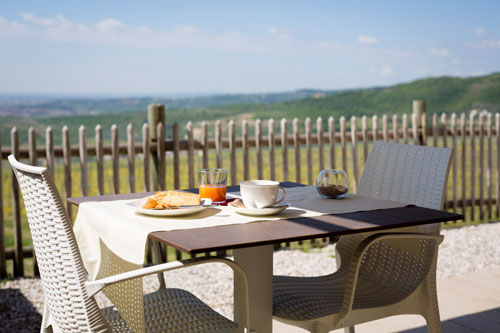 For information on the availability of rooms, prices, or products, contact the proprietor Elena at: info@viticciodeironchi.it