ROOMS AND THE INTERIOR OF THE FARMHOUSE
The interior, rooms and accommodations of the Agriturismo Viticcio dei Ronchi - Verona
The Agriturismo Viticcio dei Ronchi Relais of Verona offers various types of rooms and accommodations. Let's have a look at them: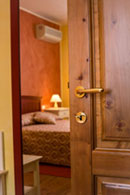 • 2 Suites situated on the ground floor of the main building

• 8 apartments divided among two adjacent buildings

All accommodations offer maximum comfort, creating an inviting and relaxing atmosphere, perfectly integrated in a location far from the movement and noise of the city.

Services available in the accommodations
All suites and apartments have the following:
heating and air conditioning
satellite TV
minibar or refrigerator
bedding, bathroom and kitchen
hairdryer
electronic safe
low energy consumption lighting
electronic entry key card
free Wi-fi.

View in detail also other services available internally and externally at the farmhouse.
Overview of the rooms
Our desire is to give you the joy of being embraced by Mother Nature each morning when you wake, for you to let yourself be carried away by her colors and fragrances, the "good morning" song of the birds at first light and the "good night" of the crickets as the sun sets... all of this to feel that wellness that you can rediscover only here.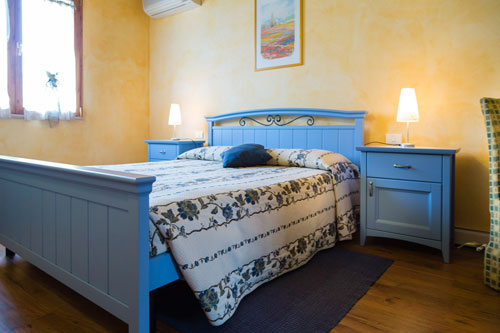 All suites and apartments boast a breathtaking view of our vineyards, olive trees, the surrounding hills, and last but not least, our romantic city of Verona. Each accommodation has its own characteristics of welcoming warmth and comfort.

The rooms all set themselves apart for the colors of the fabrics used in each, small details that makes each one unique, all perfectly chosen to make you feel at home. And if you desire strong colors for an unusual emotion, the violet walls of the "La Sisora" Suite or the red of "La Mostarola" can help you escape from your usual routine.
And what about the rooms with open beamed ceilings or the canopy bed of the charming "Le Valene" apartment for lovers desiring romance? But I would like to tell you something about each accommodation.
Le Suites dell'agriturismo: caratteristiche
The two "Sisora" and "Stadera" suites (each 45 m²) of our farmhouse are each made up of a large living room with sofa where you can relax after a long walk in the hills, satellite TV, minibar, ante-bathroom and bathroom with shower and window, and a large bedroom with queen bed.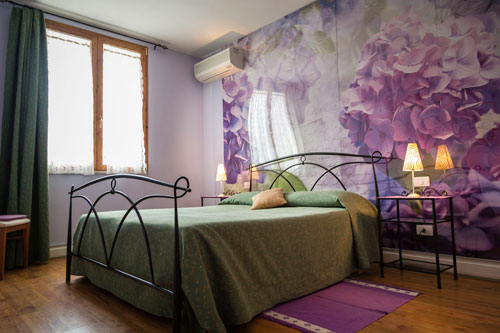 The lilac color of the "Sisora" suite and the provincial style of the "Stadera" suite will give you sensations and sweet memories to hold onto.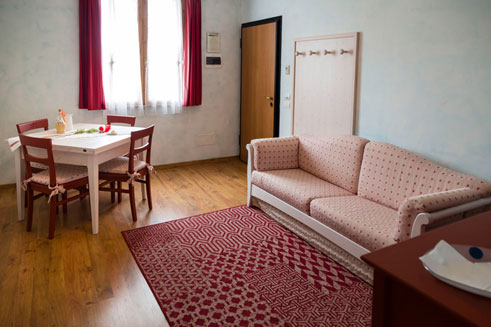 The apartments of the farmhouse: characteristics
The eight apartments (50 m² each) presented at the farmhouse are each characterized by the presence of, in the case of a holiday apartment, a very well-equipped mini-kitchen with pots and pans, tablecloth and napkins, plates, mugs and coffee cups personalized in the colors which characterize each apartment.
Naturally, there is everything needed to cook a delicious plate of pasta, complete with our "I Ronchi" extra virgin olive oil, which you will find in one of the elegant glass cabinets which delight this familial corner of flavors.
The large bedrooms with queen bed, ante-bathroom and bathroom with shower and window allow you to savor relaxing moments of well-being.
Four of these apartments, "Arele", "Gerla", "Sortilegio," and "Paradiso," might move you with their open beamed ceilings, some with portions of exposed stone wall, others with Veronese marble counter tops, a distinguished and rustic material which was characteristic in the homes of our grandmothers.
Naturally, the other four apartments leave nothing to chance:

"Valene", characterized by its nut brown furnishings, is chosen by lovers for its enchanting canopy bed;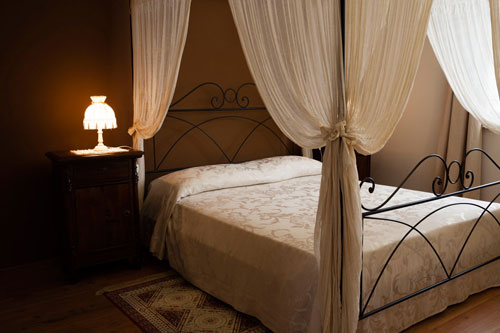 "Romensa" captures interest for its sky blue color, fancied for its sense of peace and relaxation;

"Mostarola," instead, shows all of its strength in its beautiful, intense red…also in the bedroom..
"Brentela" inspires for its arrangement of corner bed, elegant, out of the ordinary, but in character. A shelf with spotlights illuminates the table of your apartment as you taste a savory Veronese cheese with our DOCG Amarone della Valpolicella red wine.
For other information or to ask about the availability of the rooms or suites shown on these pages, contact us at: info@viticciodeironchi.it