NATURAL ENERGY – GREEN ENERGY
Energy saving methods adopted by Agriturismo Viticcio dei Ronchi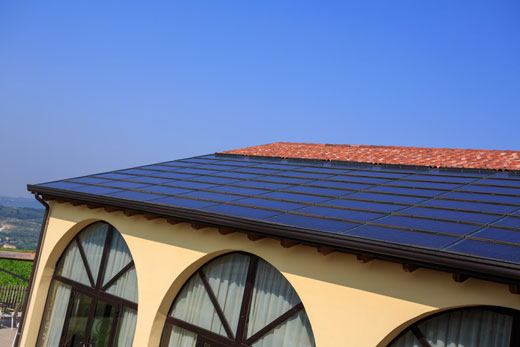 The Agriturismo Viticcio dei Ronchi has always been careful to respect the environment, employing resources designed to save energy by using the energy of the sun and the light, reducing greenhouse emissions and pollutants. Everything with innovative methods which keep the environment unaltered.
Biomass boiler = GAS FREE Farmhouse
The heating inside the accommodations is produced by a biomass boiler which uses the shoots gathered during the pruning of the farm's vineyards or other wood chip material. Thanks to the realization of this project, carried out with great sacrifice, our agritourism has been featured on the pages of well-known newspapers: GAS FREE AGRITOURISM. The articles can be seen here in PDF format:
- Articolo Corriere Vinicolo
- Scheda BioHeat di Viticcio dei Ronchi
Solar Panels
Our domestic hot water is produced by specific solar thermal collectors, which thanks to the Thermos effect produced in the airspace between the pipes, guarantees a minimum reduction of thermal dispersion, and consequently, high efficiency. Thanks to the reflective mirror, positioned underneath the vacuum sealed pipes, it is possible to use the solar radiation regardless of the position of the sun. In addition, the system uses water as a substitute for anti-freeze as a heat-carrying fluid, guaranteeing benefits for both the economy as well as the environment. The generation of 9500 thermal kWh a year is sufficient for the entire structure of the farm.
Photovoltaic Panels
After two years of red tape, we were finally able to finalize the most important project to date at Viticcio dei Ronchi Relais: the installation of a totally integrated photovoltaic system which is able to produce all of the electric energy needed on our farm.
Heating and air-conditioning
The heating and air-conditioning of the spaces, instead, is produced by the electric energy of high-efficiency dedicated heat pumps with zero emission motors. Each accommodation has a relief system: thanks to this, in case of open windows, the use of the heating or air conditioning is automatically interrupted to avoid dispersion and energy loss.
Recycling
At our agritourism, the recycling of household waste is also possible. You will find containers for the recycling of plastic, glass, dry material (general garbage) and organic waste on the property. The organic waste is gathered in a bio-composter, allowing us to transform the it into compost for fertilizing the fields and gardens.